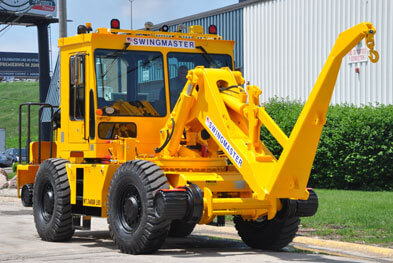 Swingmaster Rail Threader
Dual operator station allows for complete control from either side of the machine. This gives the operator a clear view of the rail being threaded.
Advanced Rail Manipulating Head allows for complete control of rail threading operation.
Rail canting feature allows for threading rail into curve block plates in one operation through mechanically rolling the rail.
Boom swing stop disallows the ability to foul the adjacent track's Plate C, allowing work to continue with a live adjacent track.
Short wheelbase allows for quick on and off the rail deployment of the machine.
Eliminates specially trained crane operators and recertification of crane.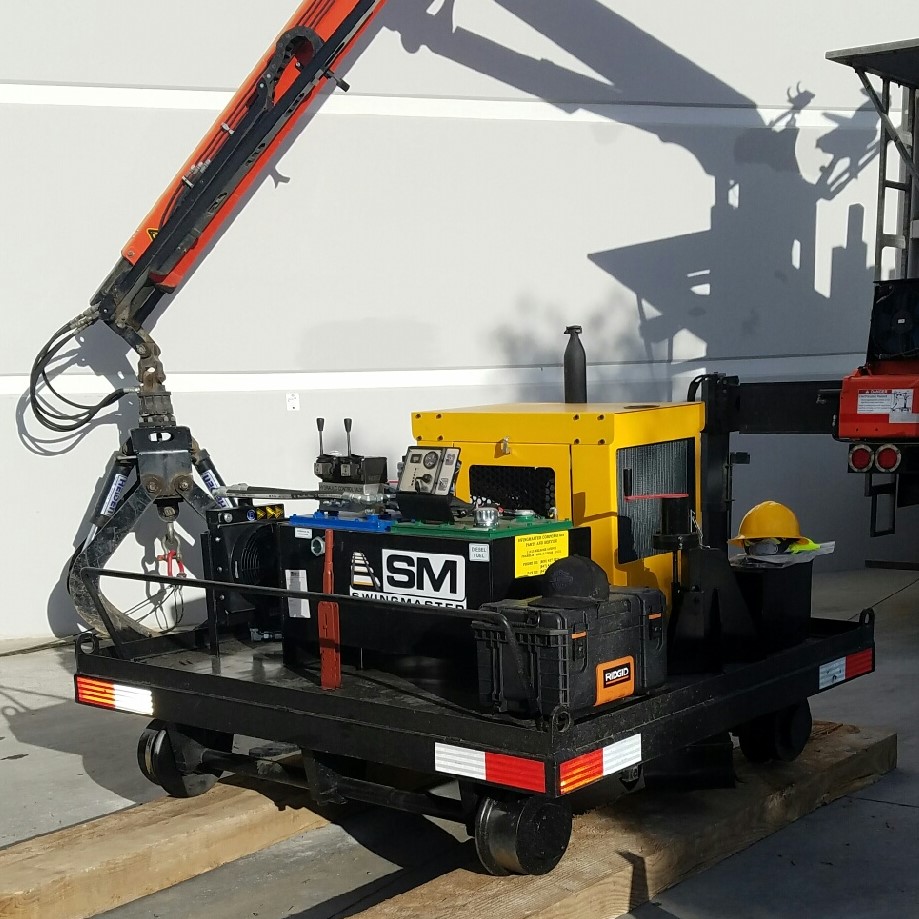 Model D-925 Dual Railbrush
The Swingmaster Dual Rail Brush removes oxidation and carbon deposits from running surfaces of both rails to ensure proper track signal operation of crossing gates
The Swingmaster Rail Brush is equipped with a hydraulic power unit to operate 2 self adjusting rail brushes. This unit can be towed by any type of hirail equipment and performs best at speeds of 15-20 mph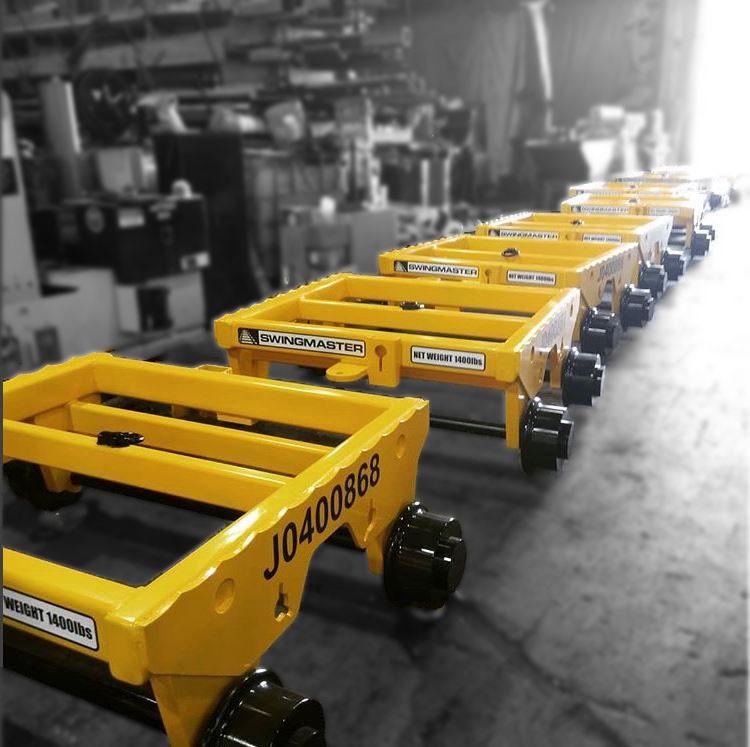 Carts
Panel Cart
Ability to transport sections of panel with hi-rail excavator
Compact size facilitates storage and makes transporting simple
Rebuildable axle bearings makes repairs easy and extends work life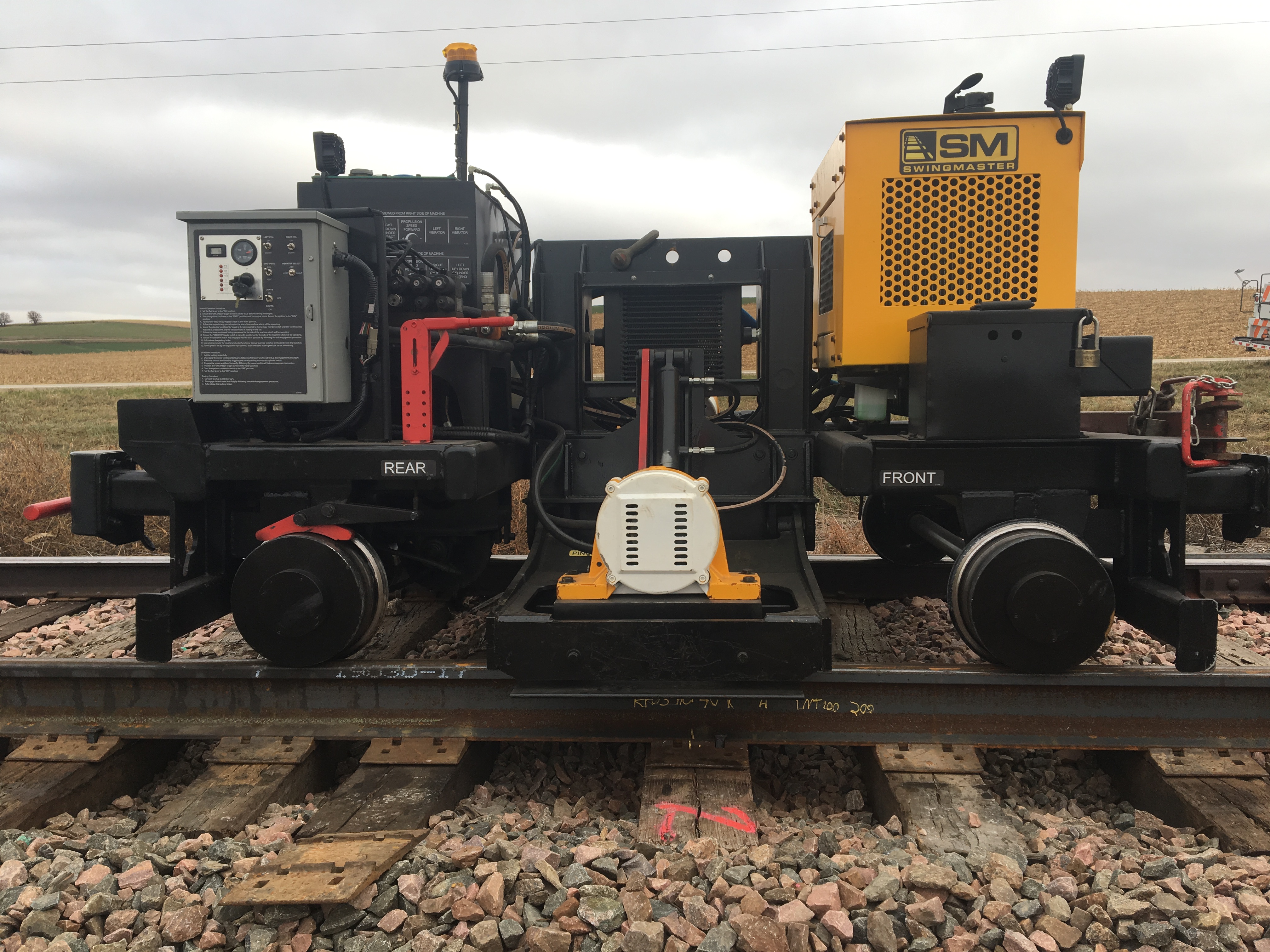 Carts
Self Propelled Vibrator Cart
Self propelled operation for increased control of distance between heated location of rail and vibrating location which increases production rate of stress reduction process
Remotely operate with wireless controller'
Dual vibrators allowing for vibration of either rail without rotating machine
Spring applied, hydraulically released brake applies automatically if the machine gets out of range of the remote
Quick disconnect of propulsion chain aids in transition between tow and work mode
Tier 4 final engine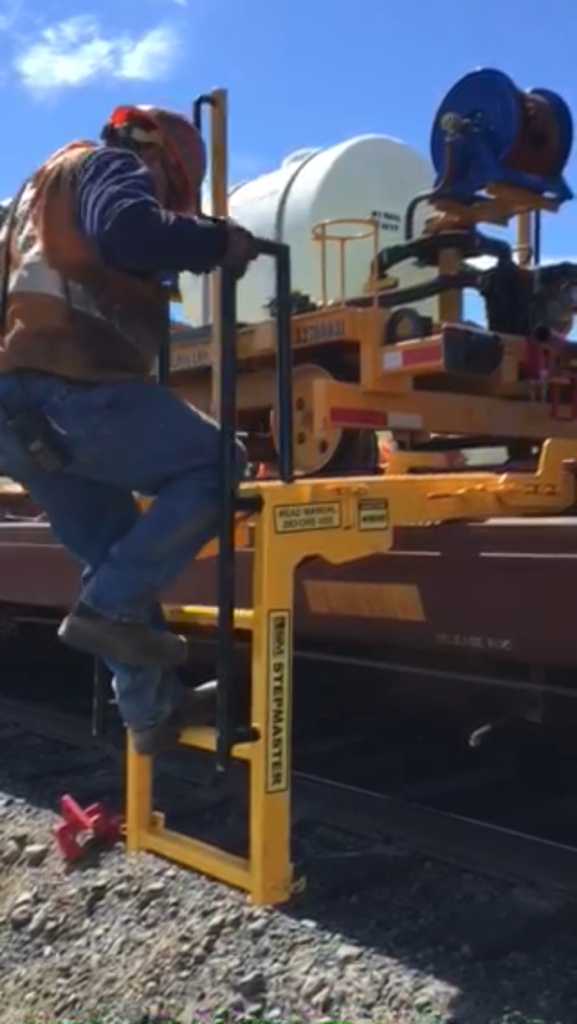 Stepmaster Ladder
Easily and safely get on and off work train
Simple rail jaw clamps to work train rail
Foldable bottom step allows the step to be used in various rail environments
Aluminum construction makes the ladder lightweight and easy to transport, store, and deploy
Foldable construction aids in storage simplicity
Swingmaster Spike Puller Workhead
Heavy-duty workhead construction reduces wear and increases workhead life. Electronic claw arm control allows operators to be more productive by reducing cycle time.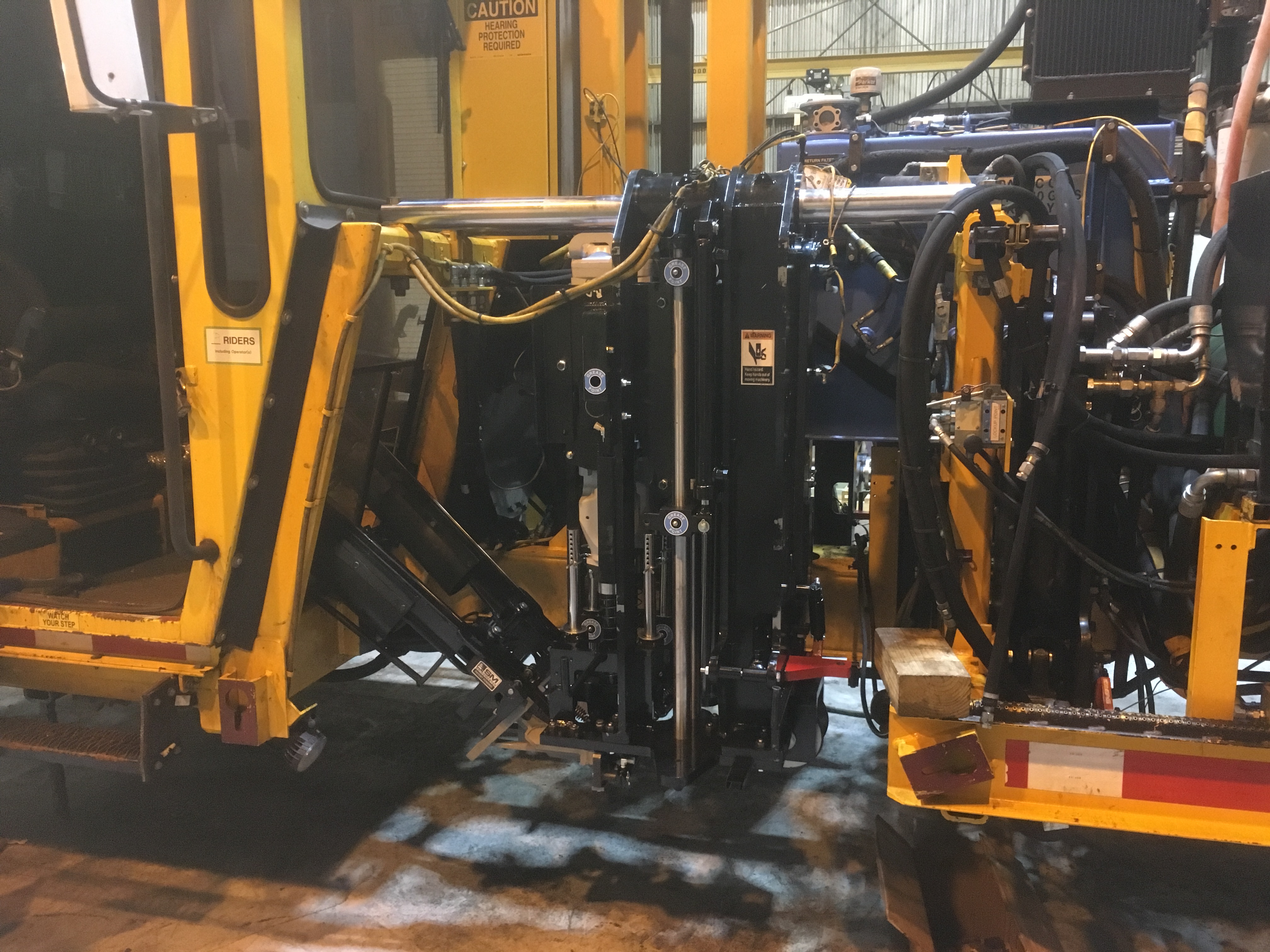 Spiker Driver Cab Enclosure
Four pivoting spike trays MINIMIZE cab openings which GREATLY IMPROVES air conditioner, heater, and cab pressurizer effectiveness
Meets OSHA silica requirements, ELIMINATING the need for the operators to wear respirators
Vertical pivot of spike trays MAXIMIZES distance between operator's knees and end of spike tray
Horizontal pivot and offset of spike trays IMPROVES visibility of work area over stock spike trays
Quick change poly carbonate cab enclosure window PROTECTS operators from outside, environmental hazards and noise
Cab enclosure kit is a field install and requires MINIMAL modifications to existing machines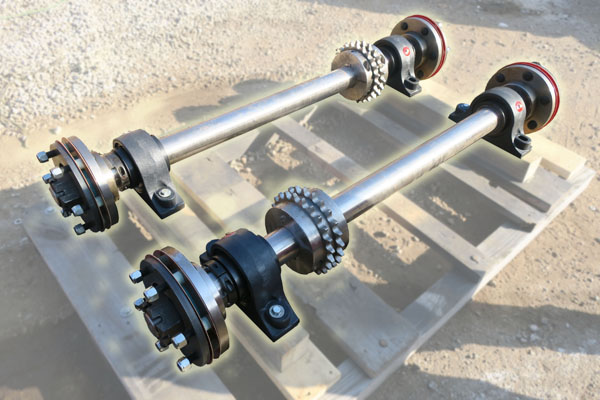 Maintenance-Free Axle Assemblies
Maintenance free axle bearings. No lubrication required
Axle solid spacers standard which eliminates axle translation
Precision manufacturing tolerances eliminate premature axle failure
Internal manufacturing allows for short lead times for assemblies and components
Custom axles available for all rail equipment upon request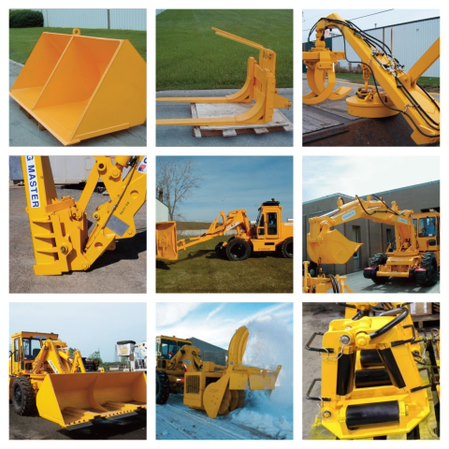 Replacement Parts
As a complete manufacturer Swingmaster supplies all replacement parts and attachments for all year model Speed Swings. Swingmaster maintains a rental fleet of Pettibones and Swingmasters. We have an inventory of over 1 million dollars of spare parts and attachments in stock. All of our axles, hydraulic cylinders, cabs, pins and bushings are manufactured and machined in house. That means the shortest lead-time in the industry for spare parts.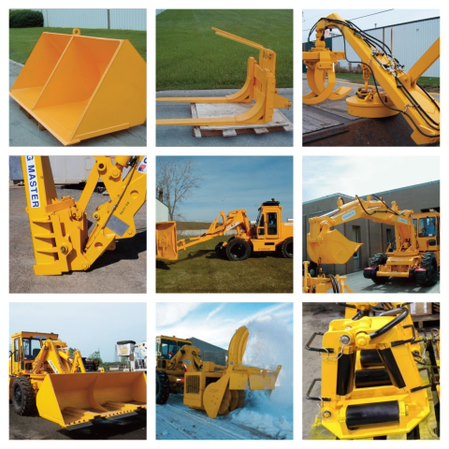 Attachments
AAR Coupler Train Brakes
Backhoe
Brush Cutter
Bucket
Rail Threader
Forks
Magnet/Grapple Combo
Magnet and Coupler
Male Master Coupler
Sweeper
Tie Exchanger
Track cleaning bucket